渋谷、婚カツ祭り!
as what the official website announced , there was a promoting event going on in shibuya for konkatsu.
when i got off 山手線, there is this wall of poster!
girls standing there taking pictures of UEDA ! not Nakai senpai XP
i presume them to be ueda fans so i did some mosaic, sorry!
and the event was taken place in front of the SEIBU department store.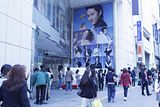 (this picture was taken 2hrs earlier before the event started, when they started giving out konkatsu candy, this place was full of ppl in queue)
we presume these wedding dresses and tuxedoes are costumes, they are just doing part-time job of handing out samples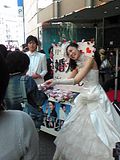 Yeah! konkatsu sticker and candy and fake roses and pink ribbon!
close-up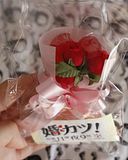 [ end. ]
this entry has nothing to do with Ueda-kun lol
and we had enough of that blue-background poster already> <
fortunately the drama will be started in 21hours !!